Energy is not just expensive nowadays in many countries, but it's also a big risk in operation, because it's cost is totally out of control. Also to reduce pollution buildings must be greener, work with higher energy efficiency. The energy consumption is a key question in all kinds of operation.
OrthoGraph can be a great help in reducing energy consumption but interestingly it can also provide high value for some of the social aspects of the building too. As ESG is a critical topic nowadays let's see how Operational BIM help in solving many issues.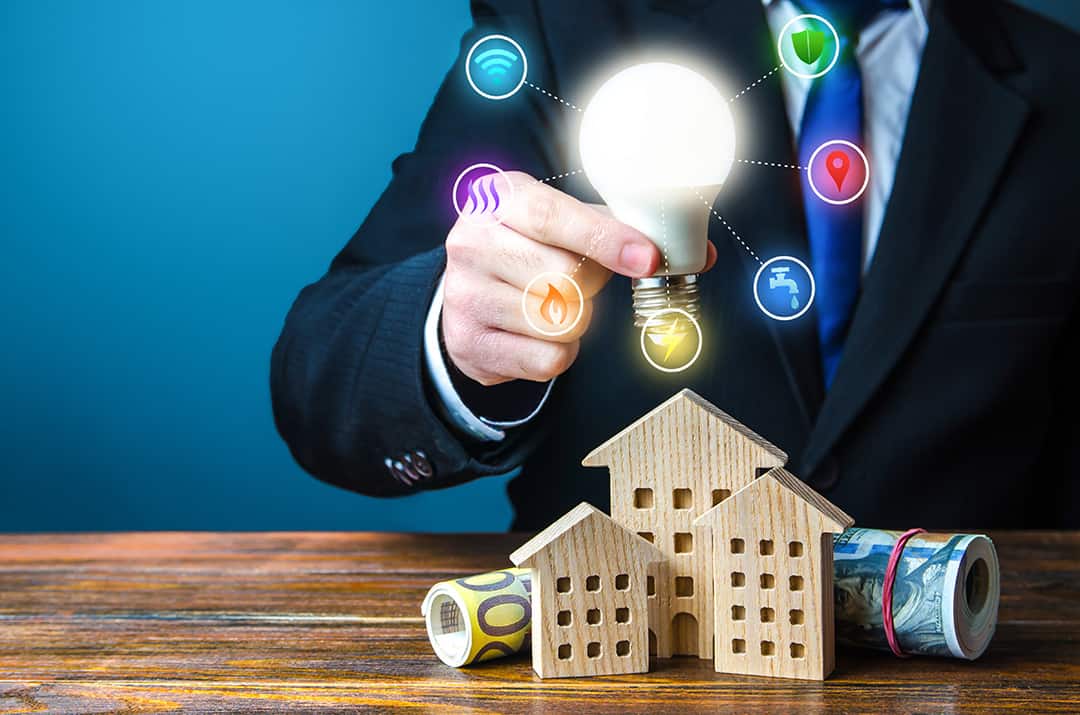 Lighting furniture refurbishment – Replacing neon and old lightbulbs with LED technology, maybe implementing smart LED solutions in relation with the room functions, using the accurate floor plan of the building.
Opening schedule – By capturing a thermal photo of each of the exterior windows / doors by using an integrated thermal camera in OrthoGraph, recording the approximate condition also textually creates an instant inventory of them. By simply filtering in the standard Excel output of OrthoGraph by the condition you can easily find the cheapest or highest ROI renovation work to implement. By simply installing insulator strips in some of the windows the achievable increase in insulation is significant. By using RFIDs on each of the windows you even can build up workflows to control whether the required renovation work has been done or not.
Collecting large consumers – In many cases high consumers are far not the modern, highly efficient devices. Pumps, coolers etc. improved a lot in the last years. Some of them are even not required for the operation to run separately, but somehow remained there in use. Simply reviewing the inventory of these large consumers can highly reduce the energy consumption of the building.
Human behaviour has a key impact – Letting tenants, departments pay the energy bill based on their real consumption has a key impact on their energy use. By using OrthoGraph you can collect easily rental units, their energy meters, install new ones if required and by using a professional CAFM system start allocating their energy costs by their real consumption. We experienced 10+% reduction in energy use by just simply a better user behaviour this way. Simply switching off the air conditioner for the weekend if there are no people in the room, or closing the window during hot summer of cold winter days. This sound obvious, but we all know that this doesn't work without a control.
Controlled preventive maintenance workflows – By implementing barcodes / RFIDs / QRCodes on maintenance points in a building make it possible to build up controllable workflows. If it is required to scan the unique identifier on the equipment that is oiled, or the filter is replaced, then we can be sure the proper object has been maintained. It is always easier to replace the filter in a fan-coil that is easy to reach than the one really needs to be maintained. By doing these preventive works not only the running / repair costs will decrease, but the energy consumption of the equipment will also be lower, sometimes significantly.
There are many more use of the data in operation, but with energy cost reduction these simple steps will result in high savings.
Social Impact of having a proper building knowledge:
ESG has also the social element in it. A simple example how OrthoGraph Operational BIM can help the social aspect of ESG is to use the accurate 3D model of a building to check if a wheelchair can access some of the building parts. 
There are companies focusing on building validation from different disability points of views. By using OrthoGraph capturing as-built with high accuracy is not only fast, but additional important data can also be captured together. Data about different kind of supports of disabled people will not only fulfil the social requirements, but will also make the life of many people easier, more comfortable.
Have you got a similar project in your mind? Have you got further questions? Want know more in a personal meeting or want to start a pilot? Click the button:
OrthoGraph GmbH
Gartenstrasse 7
Zug
Switzerland
6300
9:00-18:00 Zurich Time
USA: +17609331550
UK : + 44 (20) 34119438
Orthograph for Constructions
Historical Building Survey