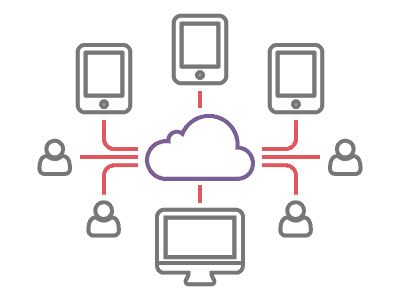 While all surveying and data modifications are done right on-site where the buildings and data are, the resulting BIM models are stored in OrthoGraph Cloud. OrthoGraph mobile app works fully offline since on-site internet connection is never a certainty, the captured data provides value only if it can be accessed by external systems as well as if it is stored centrally at a safe location.
This is what OrthoGraph Cloud Server offers: safe, centralized storage of all your building data in an environment that is open for integration with external systems.
OrthoGraph Cloud Server renders the 2D floor plans, the 3D graphical views of the BIM models, manages teamwork between groups of users and also provides and API (Application Programming Interface) through which external systems can get data out of it or store data required for on-site work.

The API of OrthoGraph Cloud Server is intelligent in more dimensions: first of all any external system (that has the proper right and license) can gather all BIM information out of the centralized storage. This covers the captured data and all calculated data too. Building up a detailed room hierarchy that includes the barcode based asset inventory is just a click – if the integrated systems are set-up well.
Once the data is transferred, OrthoGraph can also notify the external systems when there is any change in the BIM model. In these cases on request from the external system OrthoGraph only sends over the changed information from the requested time-point to minimize the amount of data transferred as well as to minimize the load on the overall system.
As a result OrthoGraph Cloud Server ensures all connected systems will have the information about the most recent state of the BIM models handled in the OrthoGraph Ecosystem. Working with fresh, up-to-date information ensures increased building operation quality and adequate decisions.
OrthoGraph GmbH
Gartenstrasse 7
Zug
Switzerland
6300
9:00-18:00 Zurich Time
USA: +17609331550
UK : + 44 (20) 34119438
Orthograph for Constructions
Historical Building Survey