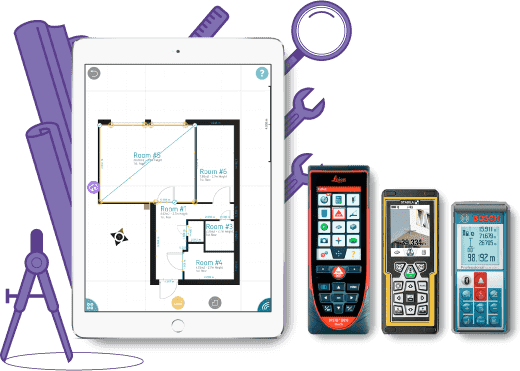 OrthoGraph works stand-alone on iOS/iPadOS or Android mobile devices (preferably tablets), though there are some equipment that can increase its effectiveness in case of on-site work.
For floor plan modifications laser distance meters are recommended with Bluetooth connectivity. Measuring a distance and transferring it automatically not only accelerates the work, but also ensures that proper data will be stored in the graphical floor plan. Any measures, any changes made on the floor plan will be instantly reflected graphically and OrthoGraph will also take care of displaying if there are enough measurements done. There is no need to follow up forgotten or invalid measurements, the resulting 3D BIM model is instantly created on the spot.
Barcode inventory is another topic where dedicated laser barcode readers with Bluetooth connectivity are recommended. Though the mobile device's camera can also read barcodes in good lighting conditions, our experience is that sometimes they fail to read the barcodes properly (creating invalid data instead). Bluetooth barcode readers are very good and small providing accurate reads even from a bit of a distance, thus you don't have to endure the inconvenience of climbing into dark and small spaces with your tablet. Laser based barcode readers don't need good lighting conditions, so the result is always reliable.

The Leica BLK360 laser scanner elevates the quality of building documentation into a new dimension. It can generate millions of 3D laser scanned points of its surroundings that can also be used for doing accurate measurements later when the situation has already been changed. The best time of usage is either when the building is under construction or there is a refurbishment being done. In both cases capturing a very intelligent panoramic photo (HDR photo, thermal panorama and an aligned point cloud) in 3-5 minutes provides more information than any modelling or handmade documentation, while it is also more reliable and accurate. Capturing these situations might be required only rarely so ordering it as a service from a service provider might also be a good solution, the resulting documentation is accessible anytime later by using the native Leica BLK360 app and an iPad Pro.
Recommended hardware for running the mobile applications
OrthoGraph runs on Android and Apple mobile platforms. During our tests the Apple iPad and iPhone performances where outstandingly high, we recommend choosing this platform with confidence. For everyday use we recommend using iPad Pro models with properly chosen rugged cases and additional Apple Care insurance services as these devices are used for professional on-site work.
OrthoGraph GmbH
Gartenstrasse 7
Zug
Switzerland
6300
9:00-18:00 Zurich Time
USA: +17609331550
UK : + 44 (20) 34119438
Orthograph for Constructions
Historical Building Survey