Digitalization of the Facility Management industry is considered to be a costly task requiring a lot of effort. We believe that the the successful way of bringing real-life data into the everyday building operation should rely on:
a simple and rugged technology, that even the regular technician crew can easily master.
This is exactly how we built OrthoGraph. It is clear that point cloud based solutions collect highly detailed 3D information – even if not all the details are required for future use. OrthoGraph surveyors and users measure only those points and objects, that they need for their facility or maintenance management work – right on-site using simple tools like everyday mobile devices, laser distance meters or even tape measures. Working exclusively with this focused dataset makes the job fast, easy and most importantly:
the data can be kept up-to-date with simple tools as part of the everyday work.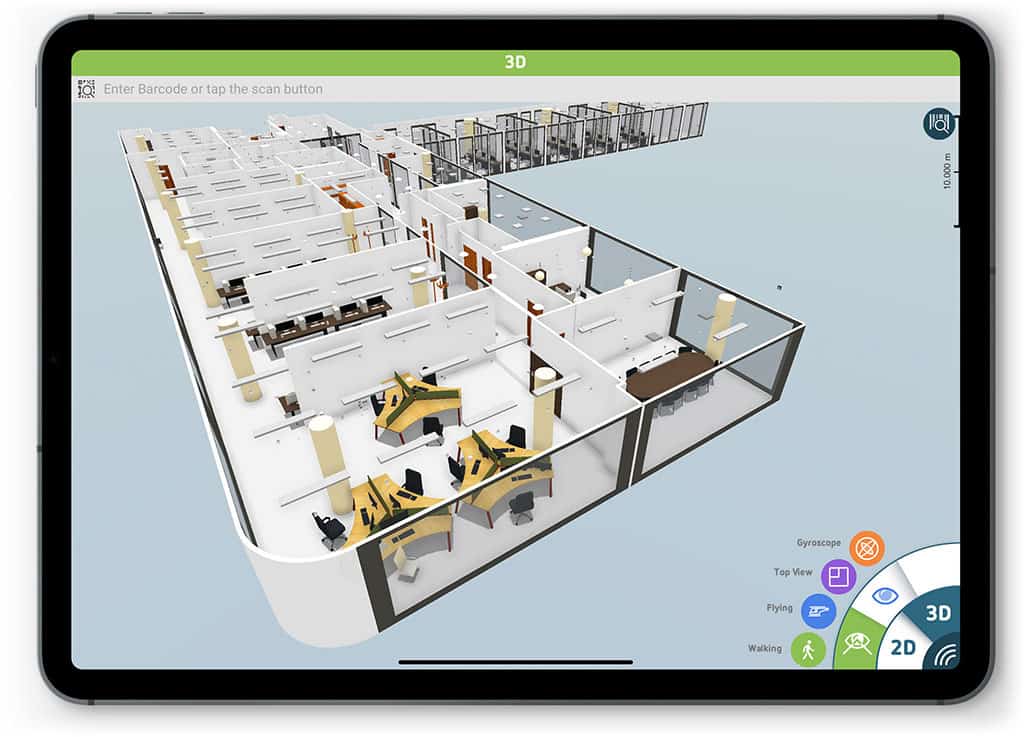 Click the image to access the above 3D BIM model
The initial survey, being a snapshot of the building given state, is a crucial starting point. However it can only keep its value, if during refurbishments and at repairs the maintenance personnel and/or the contractors are able to keep the model updated, right on-site.
This is something that the expensive, sensitive and sophisticated point cloud technology cannot provide.
OrthoGraph, however, creates accurate consumable data that is instantly available for use. Later on, the models can be further detailed anytime during the daily operation, adding new items that become important.
Experience shows that one surveyor team can measure approximately 10 000sqft / 1 000sqm per day with OrthoGraph. The number of teams working in parallel in unlimited. Once their measured data is uploaded to the OrthoGraph BIM server, all their work is merged automatically, generating the complete BIM model straight ahead.
In this way the time-cost barrier is lowered right from project start, whereas the instant BIM model creation reinforces productivity.
OrthoGraph focuses not just on performing the initial survey of the building with uniquely high speed and accuracy, but also makes the data accessible and editable for long-term use, right where the change happens.
It does matter who can do the job. Most of today's building surveying and change tracking technologies are quite expensive, sensitive and require highly educated people (eg. architects) to operate them. The result is of course increased operational cost and complexity that often deter decision makers from investing in digitalization. OrthoGraph offers another approach. Our system provides accurate data with simple tools that can be operated by your regular technical staff. All maintenance workflows and building intelligence can be stored and managed centrally so that the company's exposure to employee fluctuation is minimized.
Keep your data updated with regular technical staff and simple tools like laser distance meters.
OrthoGraph's BIM based data management technology collects the building knowledge of all connected sources in a centralized server. This central database remains at the company even if the crew is replaced meaning independence, reliability and also easy tendering.
What about point clouds? Are they worthless?
Definitely not. There are situations when the use of laser scanner technology is crucial and it also simplifies data collection. For this reason, we have developed the OrthoGraph BLK360 app that can scan and process point clouds and it can even support annotations and scan-to-BIM functionality.
Nevertheless, it is highly advised to only use this technology for appropriate purposes.
In such technically sophisticated situations like machinery maintenance, measuring a facade or during construction when all pipes and cables are not covered, laser scanning does a great job. It saves cost by collecting detailed data about the environment and provides exact documentation about what and how has been built. On the other hand, the scanned data also allows the users to measure any required distances that they might require later on. By using this technology you can save time and money at construction deliveries and in case of refurbishment jobs as well.
&nbsp
Conclusions
We are convinced that the smart way of using OrthoGraph goes beyond the one-time data collecting activity. The key benefit lies in the database function that can support building operations throughout the entire life cycle right from the construction phase to the demolition. In other words, we advise you to watch the whole film not just the first scenes.
It is also very important to select the right technology and the correct data scale, not more and not less than the necessary level. Such decisions will greatly contribute to the final result: the building digitalization brings cost savings and increased value, or the efforts go to waste and the development quickly becomes obsolete. The easy cloud based data access and the regular updates will not only save you additional building survey costs but will also provide you a comfortable independence from subcontractors / employees and will guarantee reliable information for your decisions.