Hospitals are one of the most difficult environments to operate. Every failure, delay, inaccuracy can cost human lives while the operational costs are also the highest compared to other building operation industries. By implementing Operational BIM and reporting, workflows based on it will result not only in high cost reduction, but also improved level of services. Improving services not only applies on building operation, but also BIM can be involved in the support of patient care activities thus improving the performance there too.
Defining the goal that we would like to achieve by surveying a hospital is even more important than at regular buildings. Getting back to locations to do some follow up can be very hard – just think about entering the intensive classes in hazmat clothes. Even though the OrthoGraph model can be extended with new data groups , new properties anytime, still having the goal well defined prior to the initial data collection work will result in a more extended result with minimal additional effort.
There lifecycles of data management in OrthoGraph:
Capturing, using and updating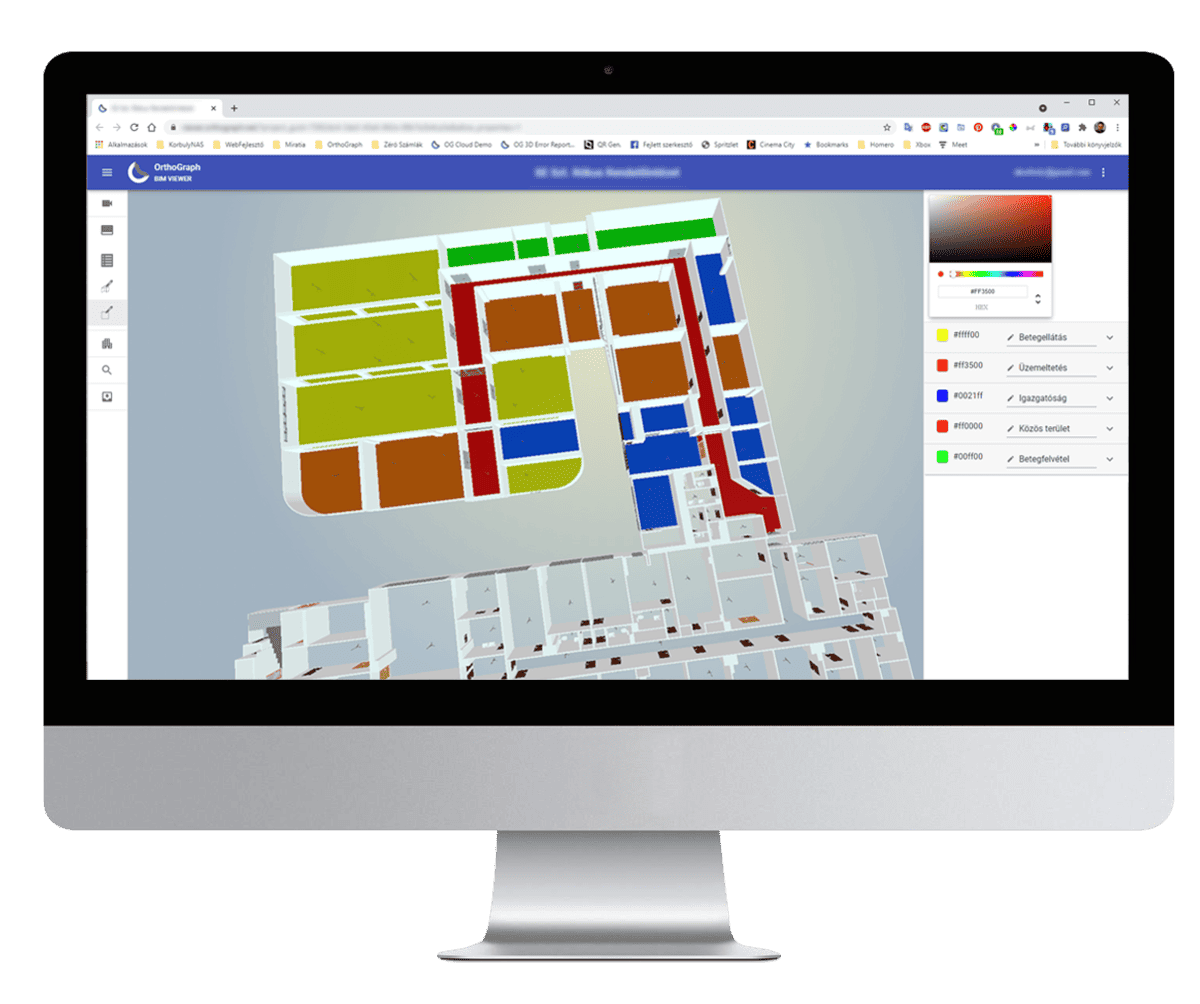 On-site Quality Control
Capturing as-built floor plans is always very difficult and recording asset inventory is exhausting. To provide the highest possible data quality, to record everything that is required is one of the key features of OrthoGraph. OrthoGraph keeps track if every required measurement is done during the surveying process and every property is filled up properly – even including photos, panoramic photos -, and doesn't let surveyors continue without having everything properly captured. In addition high data quality also need standardization. OrthoGraph handles typified data, e.g. fixed lists, value sets for properties such as for room or object condition "Good / Needs minor repair / Bad condition". This results in filterable, high-quality data then can easily be integrated with external systems, and provides a strong base for decision or tenderings.
Instant results
In hospitals it is more critical to be able to access validated data than in other industries. If there is a tendering window for a renovation that just opened, then there is only a little time to prepare surface and window data with their conditions. OrthoGraph provides live access to everything that is captured. In addition to the visible 3D model and asset inventory data all calculated data is accessible. The standard Excel export of OrthoGraph gives filterable clean data for tendering and planning the renovation work.
A real life story:
I called the client proudly and gladly that we were doing well with the survey, and I was immediately asked, "Can I get the calculated data today?" As our surveyor – despite the clutter caused by the pandemic – was doing well, I was able to send the first Excel statements early in the evening with all the requested data, calculated surfaces, but even we provided links to each drawing and inventory item that the customer could immediately view in 2D or 3D, simply in their browser, in the office. OrthoGraph provides all this from the site by default, constantly updated.
It has become a success story. Successful and transparent tenders were issued based on real and accurate data we provided, very quickly. The customer is satisfied. Nothing shows this better than the fact that new orders also came from this customer (currently 40k+m² and growing), but we also receive inquiries from other hospital areas in a row. The speed is about 40 000m²/6 weeks, and this can be increased if required.
Check out this little
summary video

we made about the on-site work and their results in an old hospital that needs strong renovation:
Using the data
Once there is the data, then it can be reused for many things during the full building lifecycle. Even though typically there is a return on investment on the initial goal that was just fulfilled, if the data is analyzed continuously, workflows are built upon it, then it becomes a mine of data. Let us list some of the uses of the same Operational BIM in hospital / healthcare operation: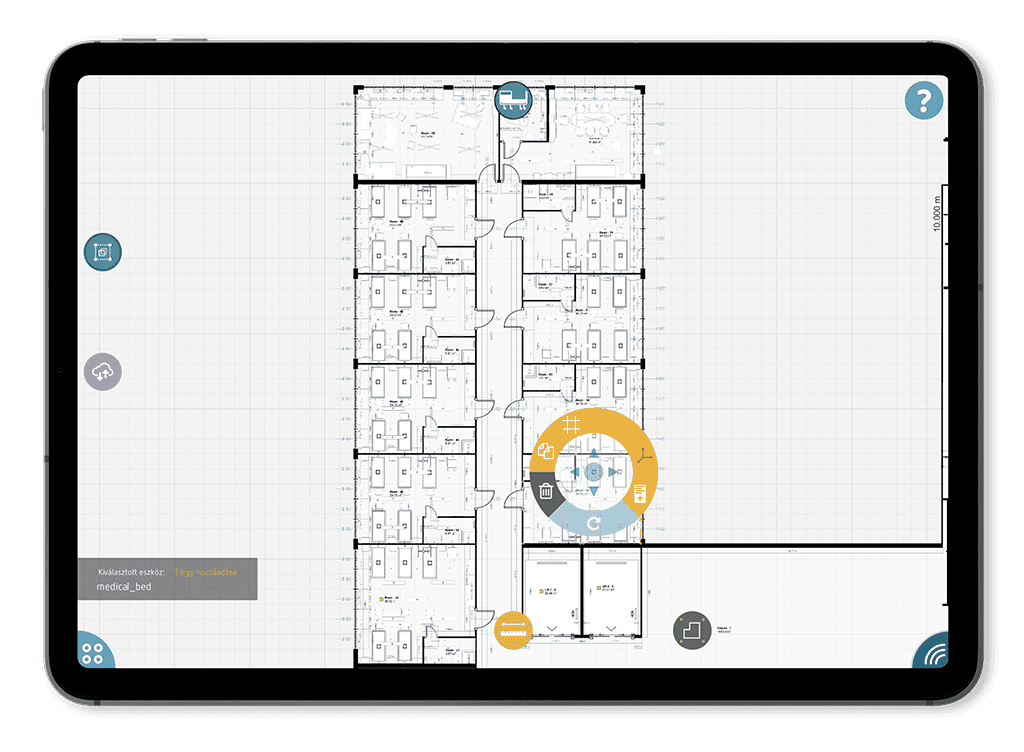 Analyze the data to…
instant support of tenderings with condition and related surface, material data (how much is the tiling/linoleum needing replacement in patient care rooms)
how much of of the building needs full renovation and how much only simple painting (broken down to room categories)
lighting furniture renovation (floor plan layout and detailed inventory of current lights)
layout planning and follow up for changing hospital demands
hospital performance evaluation (how many beds with gas outlets are available per floor?)
what gas outlets need supervision
how much is the cleaning area in sensitive rooms such as surgery or intensive classes?
how much is the related window and door surface in the same locations?
Listing hospital equipment that needs major or minor repair with their exact location, equipped with attached photos
Running graphical reports on the floor plan or the 3D model initiated from external operational systems, such as CAFM, CMMS or patient care related systems
inventory all hospital beds with RFID / QRCode / barcode to build up patient care workflows connected to them
Build up workflows to…
control if the appropriate maintenance points are maintained (filter is replaced in the proper air handling unit)
control how much time is spent on cleaning on every location
build up action plans to reorganize classes in-line with new situations – such as COVID – as fast as possible
send out maintenance people to the units on the shortest path
optimize repair tools and materials by simply providing photos of the given maintenance points (when they are taken apart)
update the building and object documentation anytime there is a change at the place of work by the technician
plan moves, variations and follow up them once they happened
follow the moves of hospital beds / patients or to implement automatic medicine dispensers
control the use of services provided to external clients (e.g. research room or equipment rental)
Integrate with…
CAFM systems for space management and cost allocation based on measured data
CMMS systems for maintenance operation supported by the RFID / QRCode / barcode tags
Building Automations/Management systems to control and measure building parts
Patient care systems to optimize workflows and control provided services
Access management system to provide control and monitoring graphically
Financial systems to get always updated asset inventory and run reports graphically
Room and equipment reservation systems
Any system that needs graphical visualization or dimensional data
CAD systems through industry standard formats such as IFC or DXF for planning design / reconstruction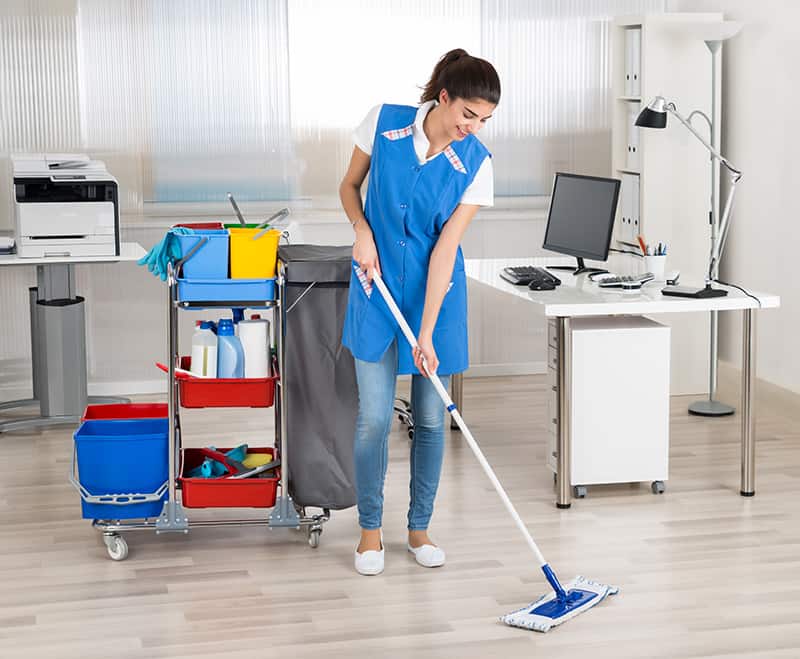 Quality of cleaning:
In hospitals the control of cleaning might mean human lives. An an example we recommend to place an RFID above the hinge of every door closest to the main corridor and request the cleaning crew to scan these RFIDs anytime they enter and exit the given room when cleaning. Equip their cleaning cart with the cheapest RFID reader chained to it, that can store scanned data with timestamps. At the end of the day read the content of it and store it in your cleaning system. This means after a week there will be 5 samples of the typical cleaning time requirements of all locations. From that moment if there is any significant difference compared to the standard times will mean that this is the location that needs inspection. The simplest and cheapest way of quality control resulting in a significant improvement – or at least stability – in cleaning quality.
Keeping the data updated
During the use of a hospital there are continuous changes. The demands are changing thus the functions are changing, renovations, expansions are done, and sometimes the environment also changes generating new demands – just think about the energy crisis of 2022 in Europe. Following up all changes in Operational BIM is that easy, that any regular technician can do it onsite, where the changes happen. Recording all changes can easily become a part of the everyday maintenance work, as it is as easy as posting on any social media platform. The result is that all building data will be stored in a central digital database and not in the heads of employees or subcontractors.
Have you got a similar project in your mind? Have you got further questions? Want know more in a personal meeting or want to start a pilot? Click the button:
OrthoGraph GmbH
Gartenstrasse 7
Zug
Switzerland
6300
9:00-18:00 Zurich Time
USA: +17609331550
UK : + 44 (20) 34119438
Orthograph for Constructions
Historical Building Survey