OrthoGraph was originally designed to support facilities management with accurate building data. But sometimes, the market presents new opportunities for us to explore. We love to listen and learn from our clients which brings us to new market segments, sometimes producing even more value for them than we originally expected. Obviously we always adapt the technology based on the requirements to have a tailor made solution for the client and the segment as well.
That's what happened when we worked with BOSCH at their largest production facility in Hungary or worked with Borsodi Sörgyár, Eastern-Europe's largest brewery, and learned about the challenges of industrial operation.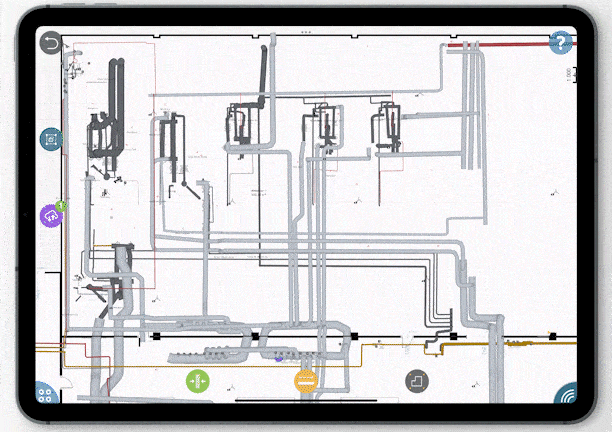 The financial challenges in operation:
Industrial operation is the most demanding form of asset operation and maintenance, with constantly changing production chains, machines moving around, and sensors and actuators traveling with them. If any element of the production chain fails, the entire chain can be affected.
Unplanned downtime in industrial operations can result in huge losses, often in the range of hundreds of thousands or millions of Euros per hour. This is where Operational BIM comes in, providing such high value that a typical system implementation can have a full return on investment by preventing or shortening even just one downtime.
With a graphical model that is continuously updated by the regular technician crew of a factory, you'll always have an up-to-date digital twin. All sensor positions, actuators, and other elements are accurately represented in the digital twin.
If an overtemperature or overpressure is detected, the maintenance crew knows exactly where it was measured and can use their CMMS system to instantly decide what workflow to initiate on which machine. OrthoGraph can show the current location of the machine and even provide pictures taken during surveying to help repair technicians bring the right tools and materials from the warehouse.
Rapid asset identification and preparedness result in shortened repair work. And if repair manuals or videos are attached to the asset, the quality of work – and potentially even more time savings – is achieved.
The human safety issues:
Human safety is a top priority in factories that work with high-risk, hazardous materials like ammonium. In case of an accident, disaster prevention services need rapid access to the 3D Operational BIM to understand the location and create a prevention action plan. With Operational BIM, factory owners can provide temporary access to their detailed 3D documentation, including panoramic photos, unique identifiers, and object details – all accessible with a simple web browser maybe running on a tablet. This access can be revoked anytime later, once the problem has been solved.
Safety workers can plan their paths to critical valves and use QR codes or other unique identifiers to confirm they're interacting with the right one. In some situations, a partition wall can be easily demolished with firefighter axes to safely evacuate people or gas containers on a safe path.
Most importantly, human lives can be saved while also protecting valuable assets.
We recommend reading the article about Pharmaceutical and Food Industry Operation, there you can find more experiences, more idea to learn from.
Have you got a similar project in your mind? Have you got further questions? Want know more in a personal meeting or want to start a pilot? Click the button:
OrthoGraph GmbH
Gartenstrasse 7
Zug
Switzerland
6300
9:00-18:00 Zurich Time
USA: +17609331550
UK : + 44 (20) 34119438
Orthograph for Constructions
Historical Building Survey