OrthoGraph revolutionizes the field of construction documentation. Initially designed to enhance facilities management and industrial operations with precise building and asset data, it has proven equally effective in creating construction documentation. What sets OrthoGraph apart is its ability to provide a real, as-built 3D model complete with a detailed object inventory. This feature is available throughout the entire construction period and even beyond. Numerous success stories attest to the value that OrthoGraph brings to builders, developers, and investors alike by streamlining construction documentation processes.
It is an additional huge value generation that the created building documentation will also serve for the whole building lifecycle – even till the end of demolition – with many productive values.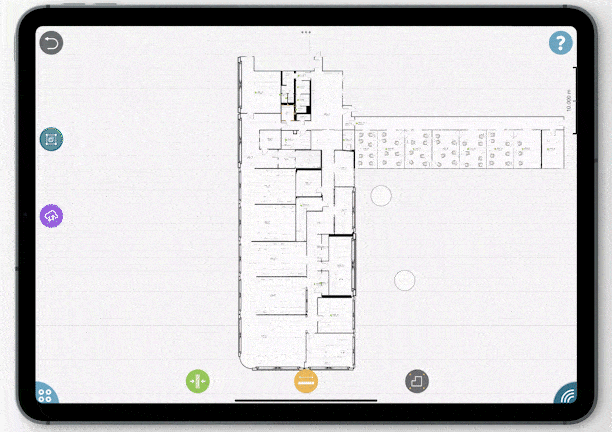 Accurate floor plans with versioning:
During construction or renovation the building changes continuously. For following up all changes, to get clear values of built-in amounts (e.g. volume of bricks, plastered surface) and to be able to record later the positions of all objects, machines in the building OrthoGraph can easily be used to measure wall-to-wall, corner to corner including all doors and windows.
In addition photos and panoramic photos will be a great value to follow up the different statuses of the building and to document things that we don't find that important yet, but later might become a great value for discussions. Re-measuring the floor plan regularly also recording the wall structures can be used for accounting with suppliers and also for confirming what really has been built into the model.
All the modifications are stored in OrthoGraph as versioned changes with additional comments. This means anytime there is a questions about a given state of the construction, the actual floor plan can easily be recalled.
We think this kind of model, documentation doesn't replace point clouds, as they have also their values. Probably not as an integrated, large, hard-to handle point cloud of the total construction, rather measurable segments captured from different positions with annotations. If OrthoGraph BLK360 is used in conjunction with the Operational BIM managed by OrthoGraph, then clear references can be embedded to the BIM to the given laser scanning positions, or even points of interests. So if there is a fan-coil in the BIM, then it can be referred in the point cloud to display how the pipes, electricity has gone there. The two solutions and two very different technologies work really well in conjunction.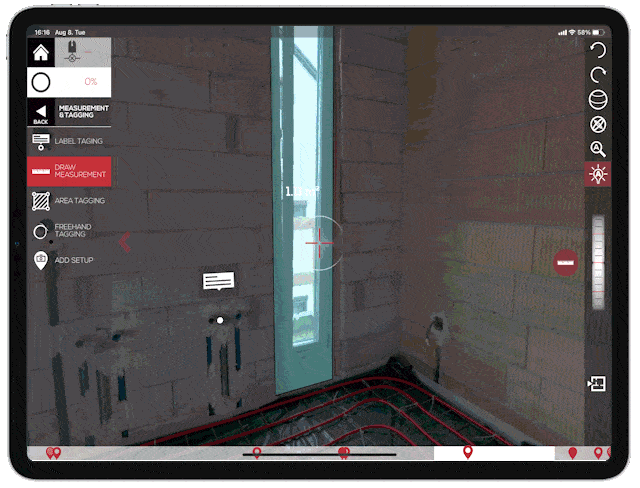 In addition to this, OrthoGraph models don't need expensive and sensitive tools and special knowledge. After a detailed 3 days long training and the related exam anyone having a good space understanding can use OrthoGraph to capture BIM on-site. Even in environments where there are many people working at the same time, there is dust and the risk of dropping survey equipment on the ground is very high. OrthoGraph uses only small, lightweight and rugged tool such as laser distance meters to capture the reality.
Laser scanning needs expensive and sensitive tools, special capturing knowledge and strong computer architecture to process them. In addition it is something to outsource and rely on the supplier whether  and when they come, then they can capture that given moment. With OrthoGraph any change can instantly be recorded by own people, siteworkers without any risk of losing something due to being covered before digitization.

The value of asset inventory:
The discrepancies in the built layout already hold significant value for accounting and future use, but the inventory of built-in assets carries even greater worth. For instance, plans to install similar fan coils from the same supplier throughout the building can be disrupted if the available stock falls short of the demand. Waiting for a shipment from abroad for another half year isn't a viable option, leading to the use of different models from various manufacturers to meet the demand. Without a comprehensive inventory of all these assets, not only is their exact location unknown, but accounting for the final as-builts also becomes challenging. Thinking outside the box, this issue extends beyond construction and related accounting. It poses an even larger problem for the next phase of the building lifecycle – operation.
Construction involves more than just building; it also includes documenting the condition of assets that may have issues. This could be a broken window, a scratched wall, or a misplaced boiler. With Operational BIM, all these problems can be easily documented, complete with attached photos. This allows for easy repair of all known issues prior to handover, resulting in faster accounting and ultimately a more satisfied developer.
What else do we get, if we use unique identifiers, RFIDs / QRCodes or barcodes on all maintenance points?
Exact element identification and workflow control. If we have an important object, equipment that needs to be touched for any reason, then these unique identifiers can help to easily identify the given object. If we use the proper workflow based issue tracking system that is based on using these unique identifiers, then the site worker can be requested to scan the given equipment's identifier to confirm that the proper one is going to be maintained. If the system is prepared for that, then we even can check the time of work to find our more information about the given work.
Capture only real value, that you are going to use, and use the right tools for the right purpose!
Many times we get the request to capture everything in the BIM as it should represent all content of the building. In reality most of piping, cable channels, detailed statue represntations don't have any value in the BIM. All these can easily be captured using laser scanned point clouds, which is not going to be only cheaper, but it will be more usable in the future to support refurbishment, building changes. These are typically data that is rarely required, but when they are required, then with the highest possible accuracy. This is another reason to combine technologies and to choose the proper ones for the required functionality.
Simply BIM needs maintenance points and all other graphical materials should be recorded in point clouds, made at the right moment of construction – right before having them covered.
Have you got a similar project in your mind? Have you got further questions? Want know more in a personal meeting or want to start a pilot? Click the button:
OrthoGraph GmbH
Gartenstrasse 7
Zug
Switzerland
6300
9:00-18:00 Zurich Time
USA: +17609331550
UK : + 44 (20) 34119438
Orthograph for Constructions
Historical Building Survey